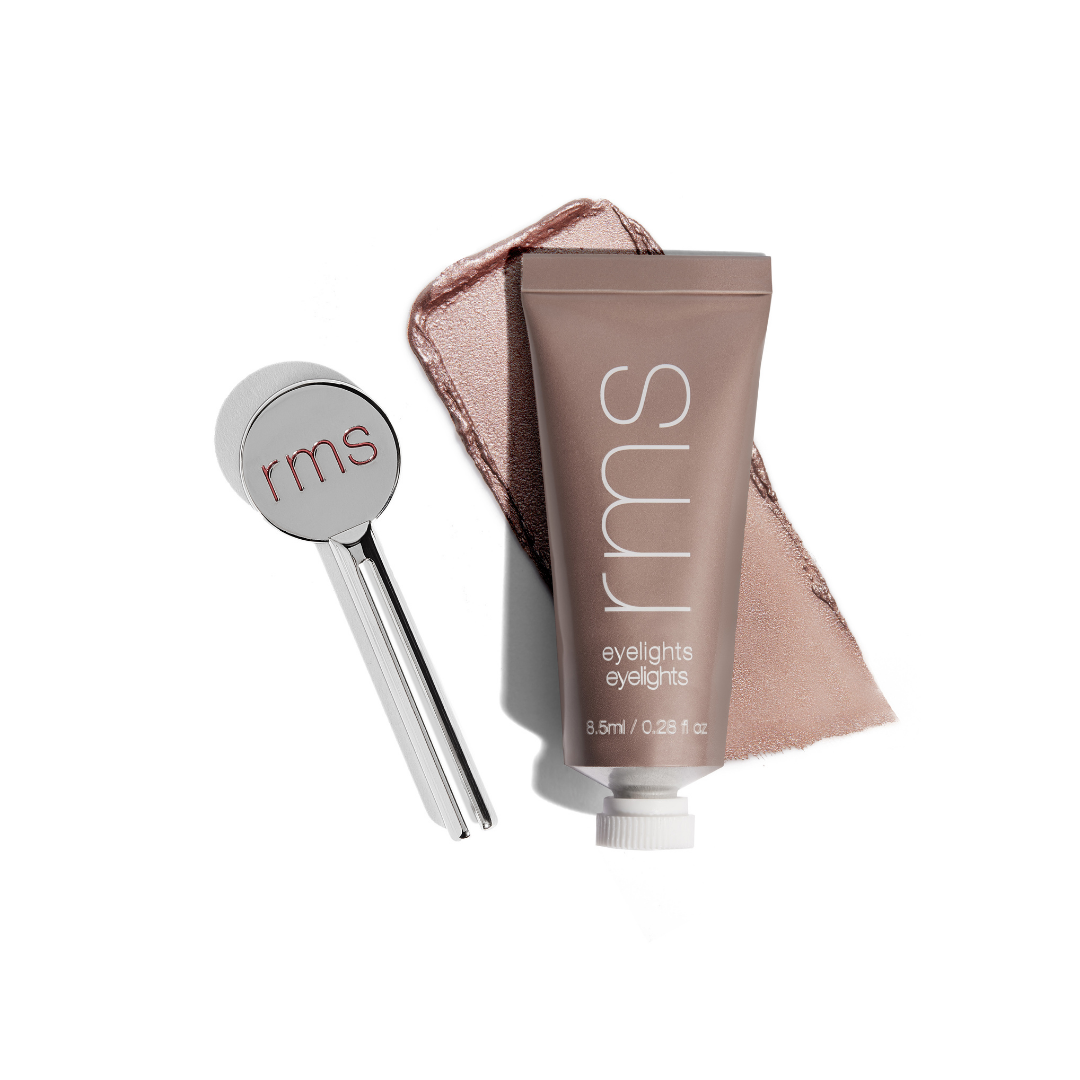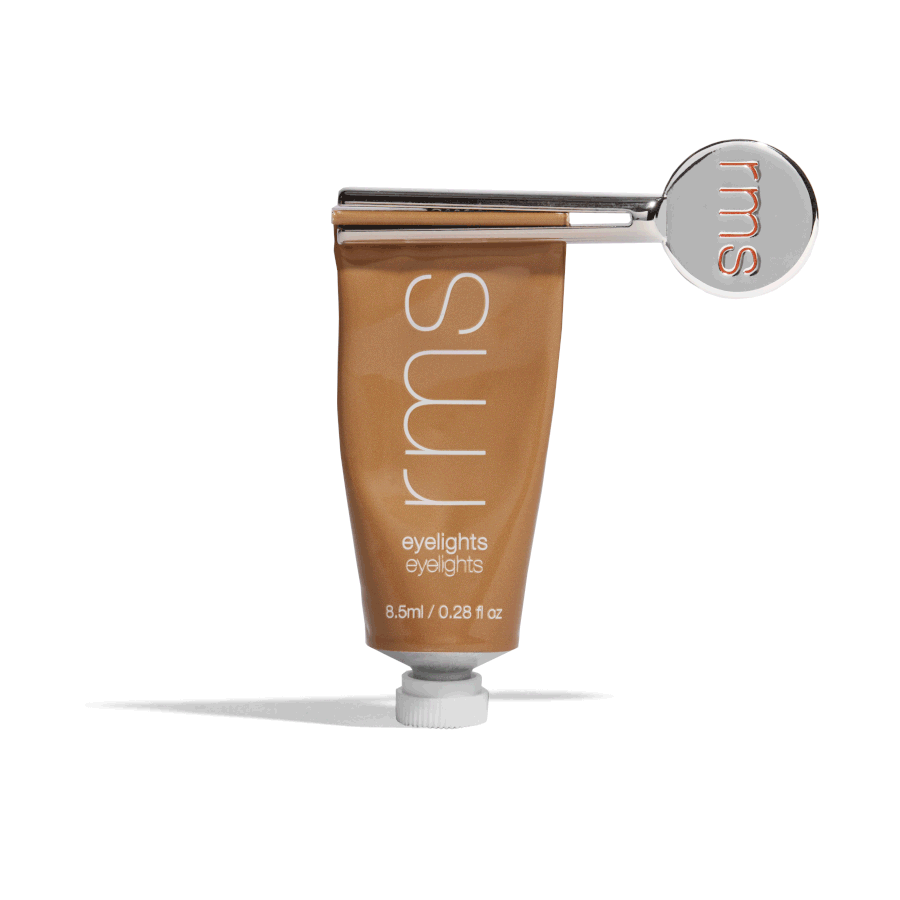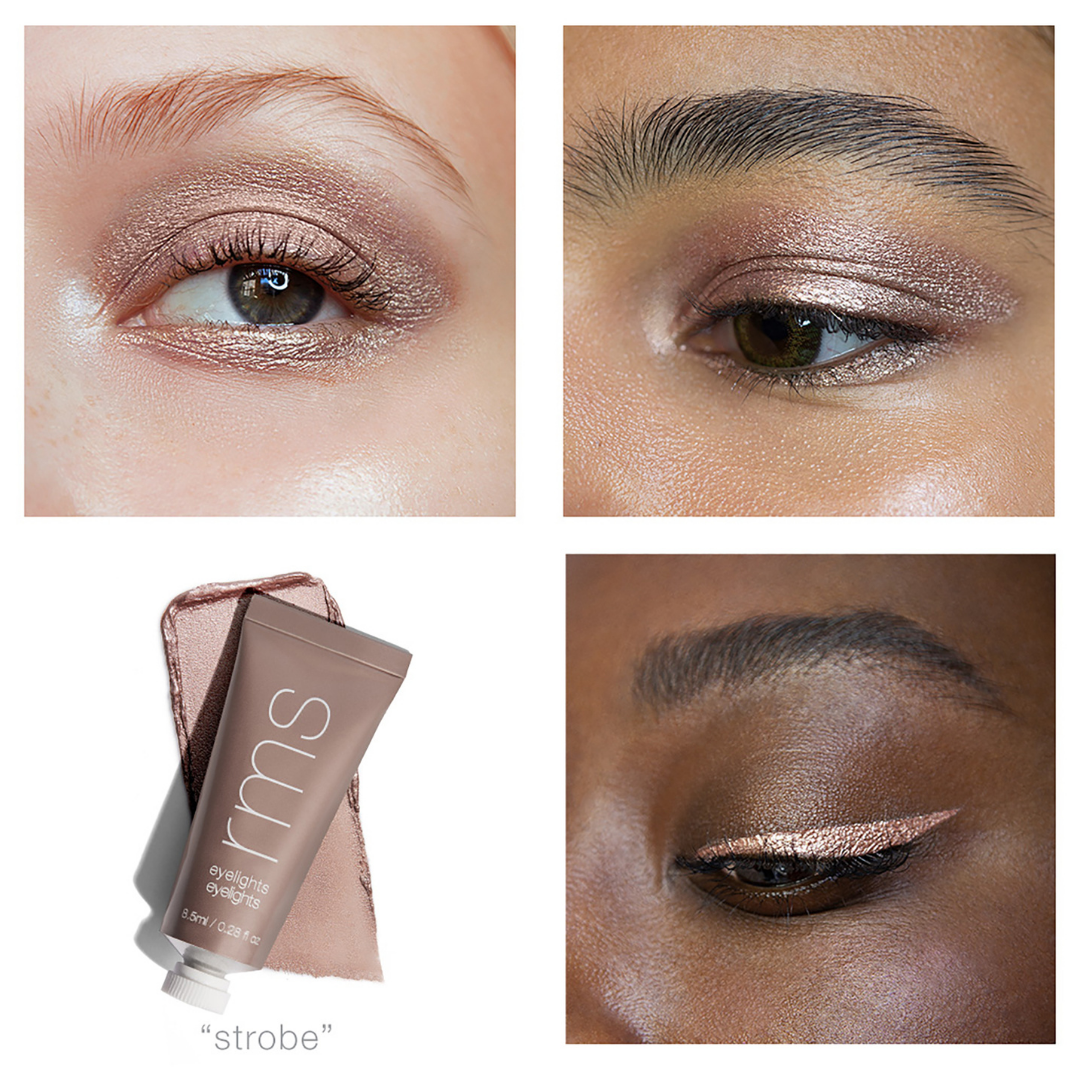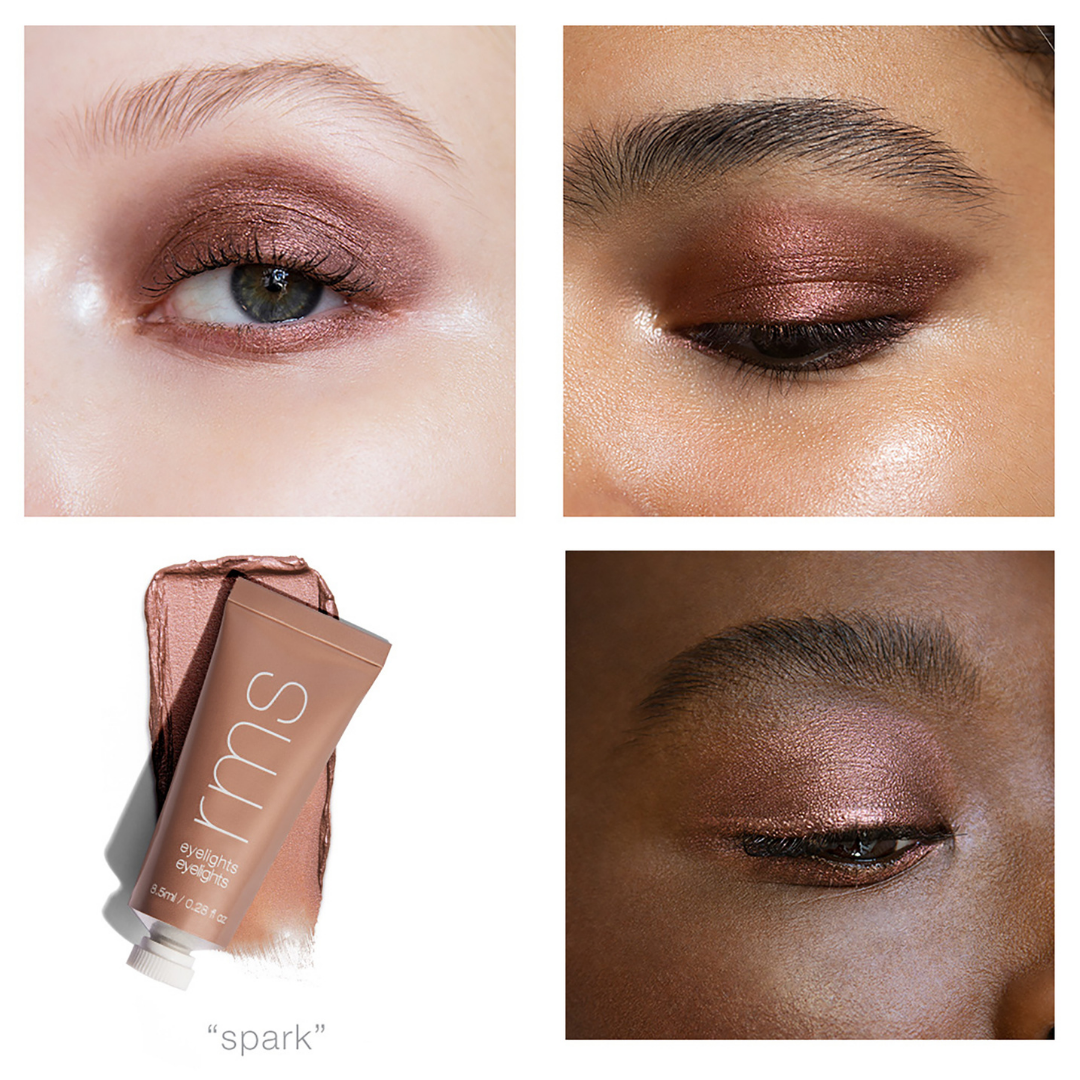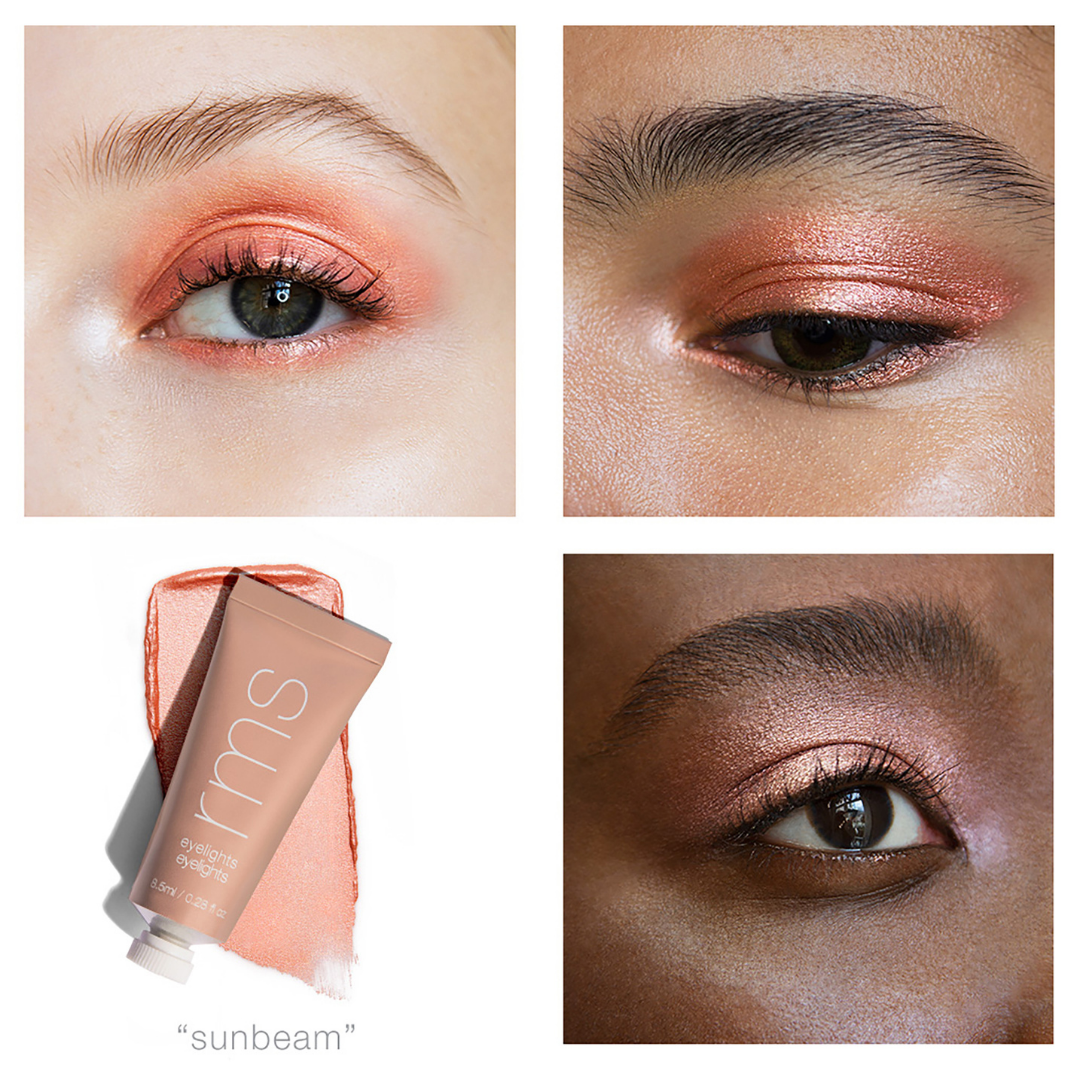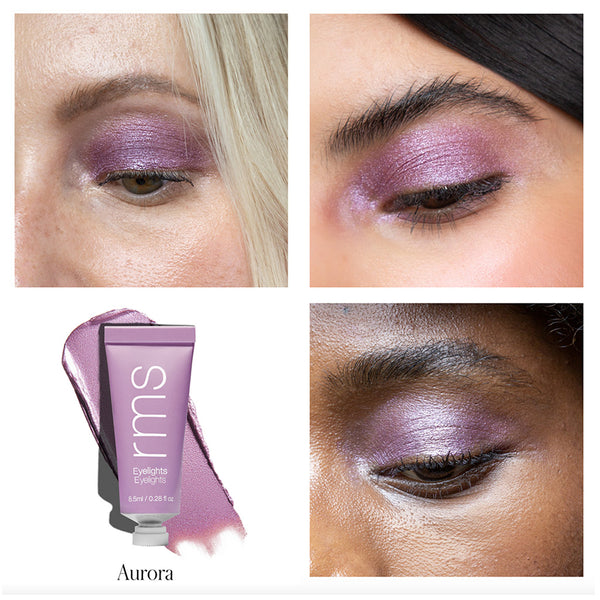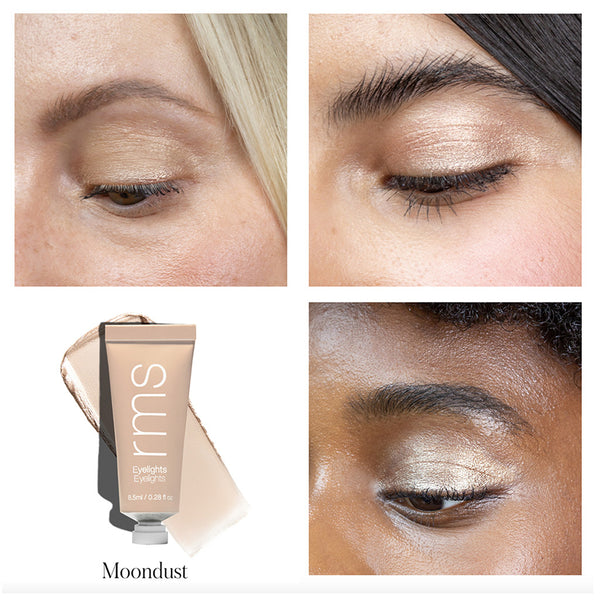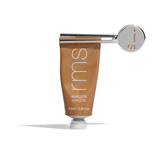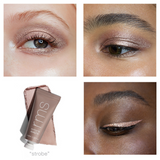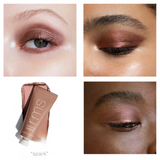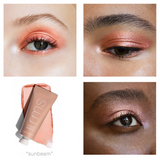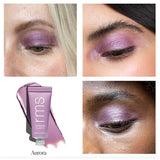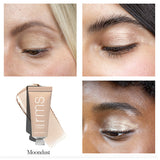 Eyelights Cream Eye Shadow
Description

The RMS Beauty Eyelights are long wearing cream eyeshadows available in 6 beautifully metallic shades.

The cream eyeshadows are nourishing and light reflective to create a soft luminous finish, the crease-proof eyeshadows are subtle enough for daytime wear but dramatic enough for evening wear.

RMS Beauty eyeshadows are formulated with organic green tea & natural quinoa extract to help nourish and smooth the delicate skin around the eye area.

The RMS Eyelights eyeshadows come with a reusable key that can be attached to the end of the tube, helping you twist out every last bit of colour before recycling the tube.

What's inside RMS Beauty's Eyelights Cream Eyeshadows?

Organic Green Tea Extract: An amazing antioxidant that soothes & helps to defend against free radicals.

Natural Peptide Quinoa Extract: Natural and sustainable plant source, this innovative ingredient helps to smooth and firm the eyelid area.

--

For?
Everyone!

How?
Apply to eyelids using brush or fingers. Begin at center and blend outward. Fast-drying so blend swiftly.

When?
In your daily makeup application.

Size: 8.5ml

Packaging: Aluminium tube.

INCI: spark: Water/Aqua/Eau, Mica, Propanediol, Caprylic/Capric Triglyceride, Polyglyceryl-4 Caprate, Silica, Glycerin, Sodium Dehydroacetate, Aminomethyl Propanediol, Caprylyl Glycol, Ethylhexylglycerin, Tin Oxide, Chenopodium Quinoa Seed Extract, *Camellia Sinensis (Green Tea) Leaf Extract, Sodium Benzoate, Potassium Sorbate, Iron Oxides (CI 77491, CI 77499), Titanium Dioxide (CI 77891). sunbeam: Water/Aqua/Eau, Mica, Propanediol, Caprylic/Capric Triglyceride, Polyglyceryl-4 Caprate, Silica, Glycerin, Sodium Dehydroacetate, Aminomethyl Propanediol, Caprylyl Glycol, Ethylhexylglycerin, Tin Oxide, Chenopodium Quinoa Seed Extract, *Camellia Sinensis (Green Tea) Leaf Extract, Sodium Benzoate, Potassium Sorbate, Iron Oxide (CI 77491), Titanium Dioxide (CI 77891). blaze: Water/Aqua/Eau, Mica, Propanediol, Caprylic/Capric Triglyceride, Polyglyceryl-4 Caprate, Silica, Glycerin, Sodium Dehydroacetate, Aminomethyl Propanediol, Caprylyl Glycol, Ethylhexylglycerin, Tin Oxide, Chenopodium Quinoa Seed Extract, *Camellia Sinensis (Green Tea) Leaf Extract, Sodium Benzoate, Potassium Sorbate, Iron Oxides (CI 77491, CI 77499), Titanium Dioxide (CI 77891). flare: Water/Aqua/Eau, Mica, Propanediol, Caprylic/Capric Triglyceride, Polyglyceryl-4 Caprate, Silica, Glycerin, Sodium Dehydroacetate, Aminomethyl Propanediol, Caprylyl Glycol, Ethylhexylglycerin, Tin Oxide, Chenopodium Quinoa Seed Extract, *Camellia Sinensis (Green Tea) Leaf Extract, Sodium Benzoate, Potassium Sorbate, Iron Oxides (CI 77491, CI 77499), Titanium Dioxide (CI 77891). strobe: Water/Aqua/Eau, Mica, Propanediol, Caprylic/Capric Triglyceride, Polyglyceryl-4 Caprate, Silica, Glycerin, Sodium Dehydroacetate, Aminomethyl Propanediol, Caprylyl Glycol, Ethylhexylglycerin, Tin Oxide, Chenopodium Quinoa Seed Extract, *Camellia Sinensis (Green Tea) Leaf Extract, Sodium Benzoate, Potassium Sorbate, Iron Oxides (CI 77491, CI 77499), Titanium Dioxide (CI 77891).halo: Water/Aqua/Eau, Mica, Propanediol, Caprylic/Capric Triglyceride, Polyglyceryl-4 Caprate, Silica, Glycerin, Sodium Dehydroacetate, Aminomethyl Propanediol, Caprylyl Glycol, Ethylhexylglycerin, Tin Oxide, Chenopodium Quinoa Seed Extract, *Camellia Sinensis (Green Tea) Leaf Extract, Sodium Benzoate, Potassium Sorbate, Iron Oxides (CI 77491, CI 77499), Titanium Dioxide (CI 77891).

*organic
HOW TO USE

Appliquez sur les paupières à l'aide d'un pinceau ou des doigts. Commencez au centre et estompez vers l'extérieur. Le séchage est rapide.

Conseil : Lorsque vous avez terminé le quart du tube, faites glisser la clé pour faire sortir proprement chaque goutte avant de la recycler.
INGREDIENTS
PREGNANT ?

This product doesn't contain ingredients which are not recommended to use during pregnancy.
Oui, ce produit est vegan. Tous nos produits sont cruelty-free.
Eyelights Cream Eye Shadow
DELIVERY
Free delivery from 60 € (LU, FR, DE, BE) and 99 € (rest of the EU)
CLICK & COLLECT
Pick-up your order in 2h in our Luxembourg boutique
SAMPLES
Minimum 3 personalised samples in each order