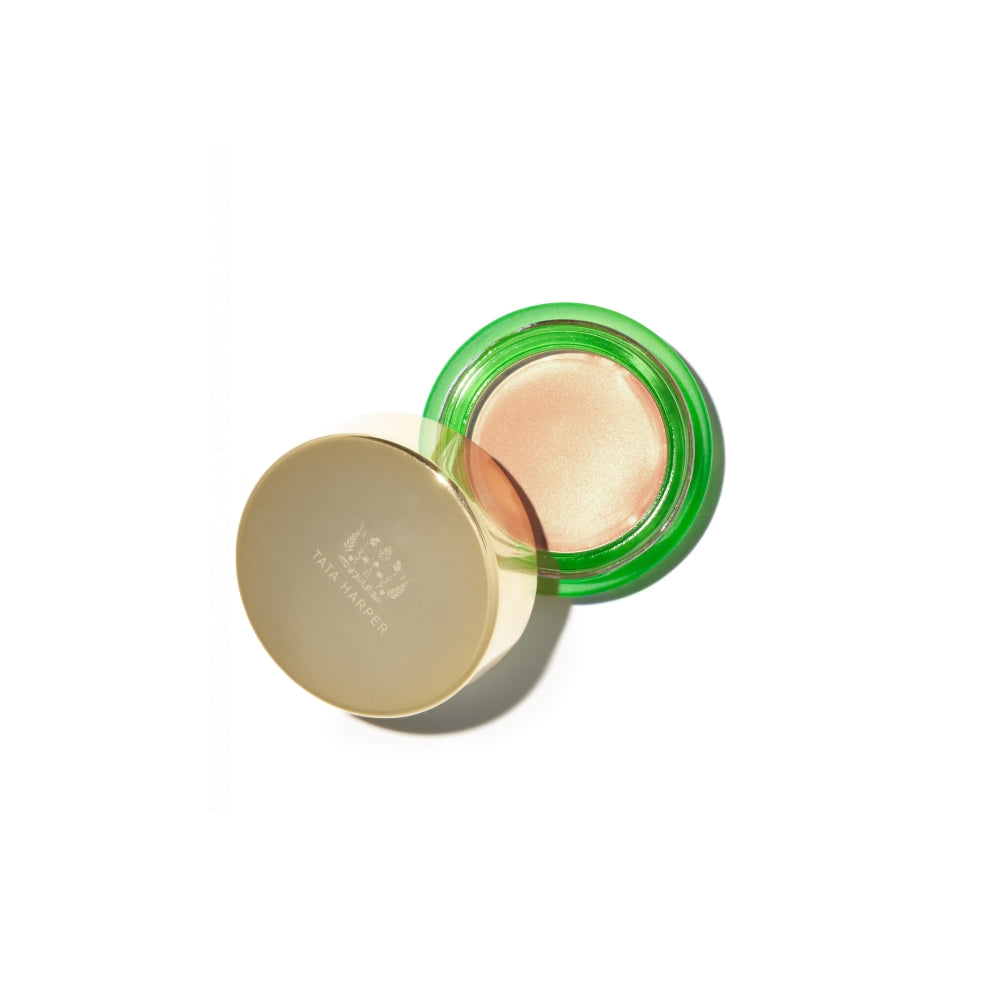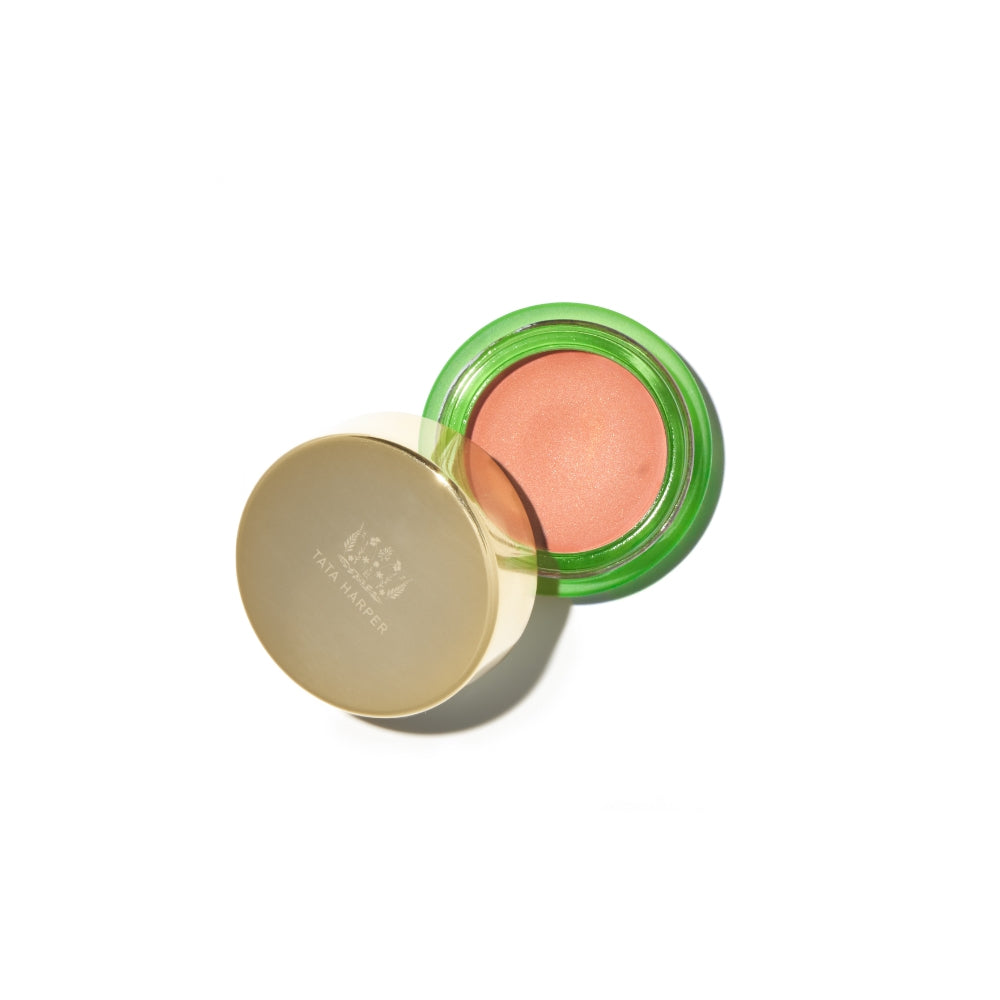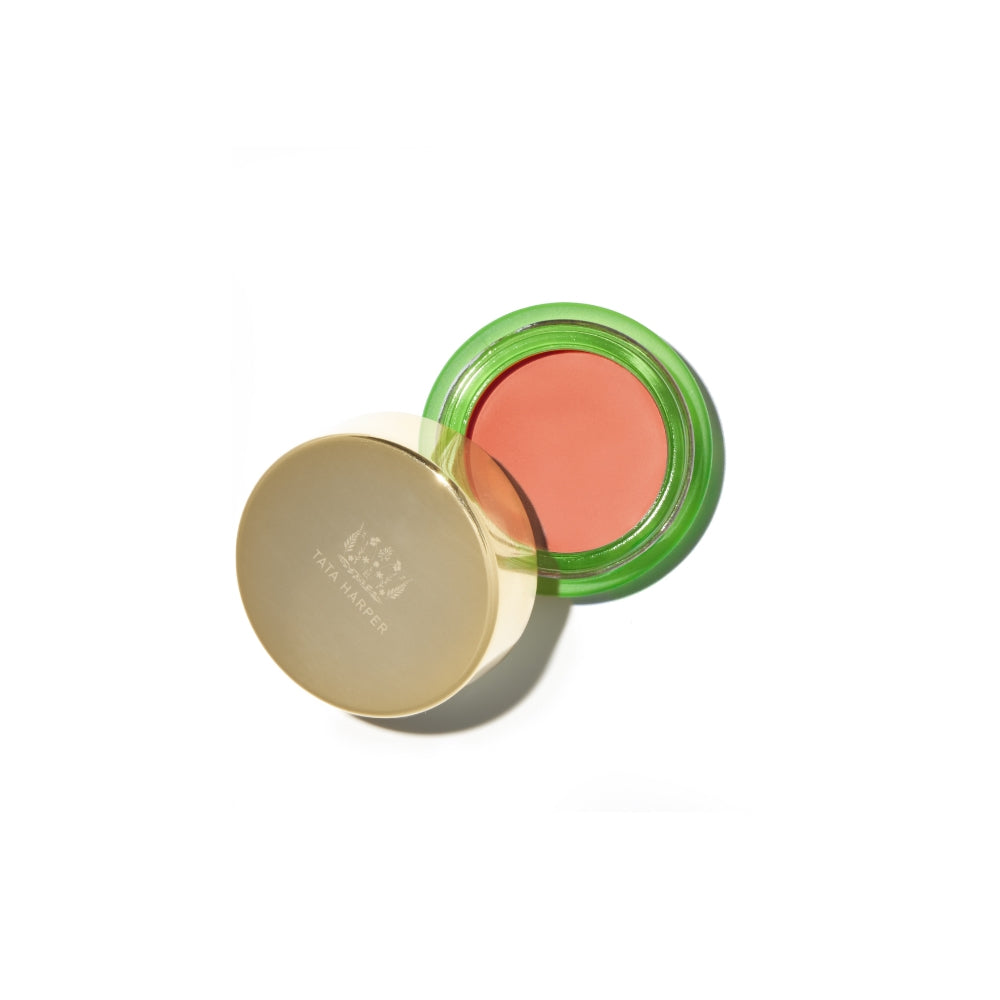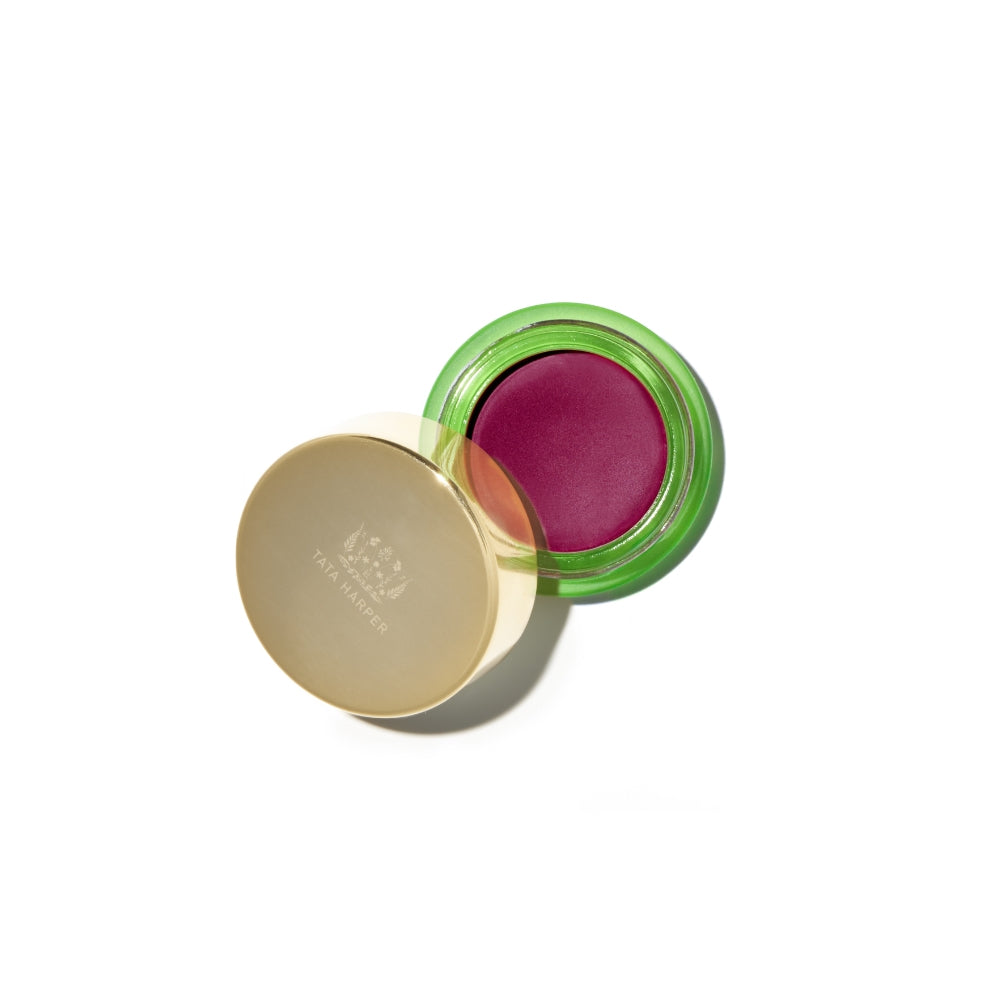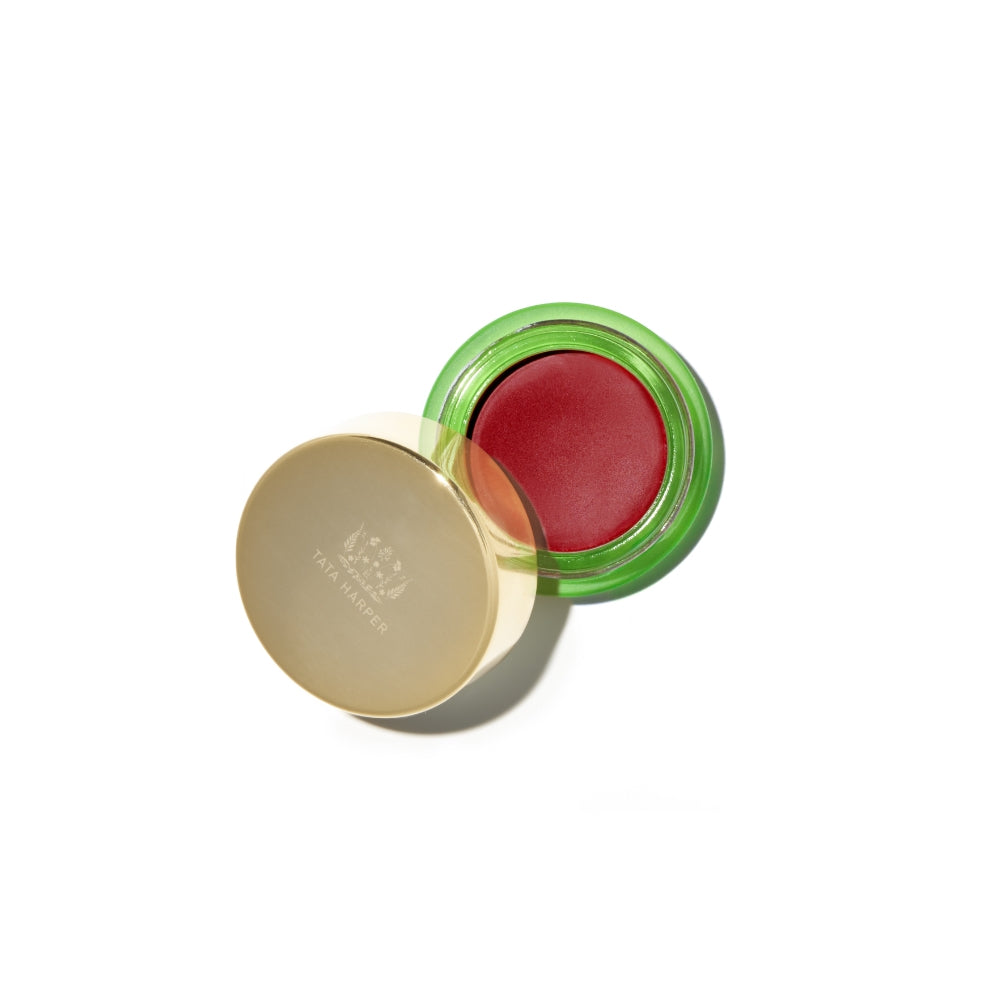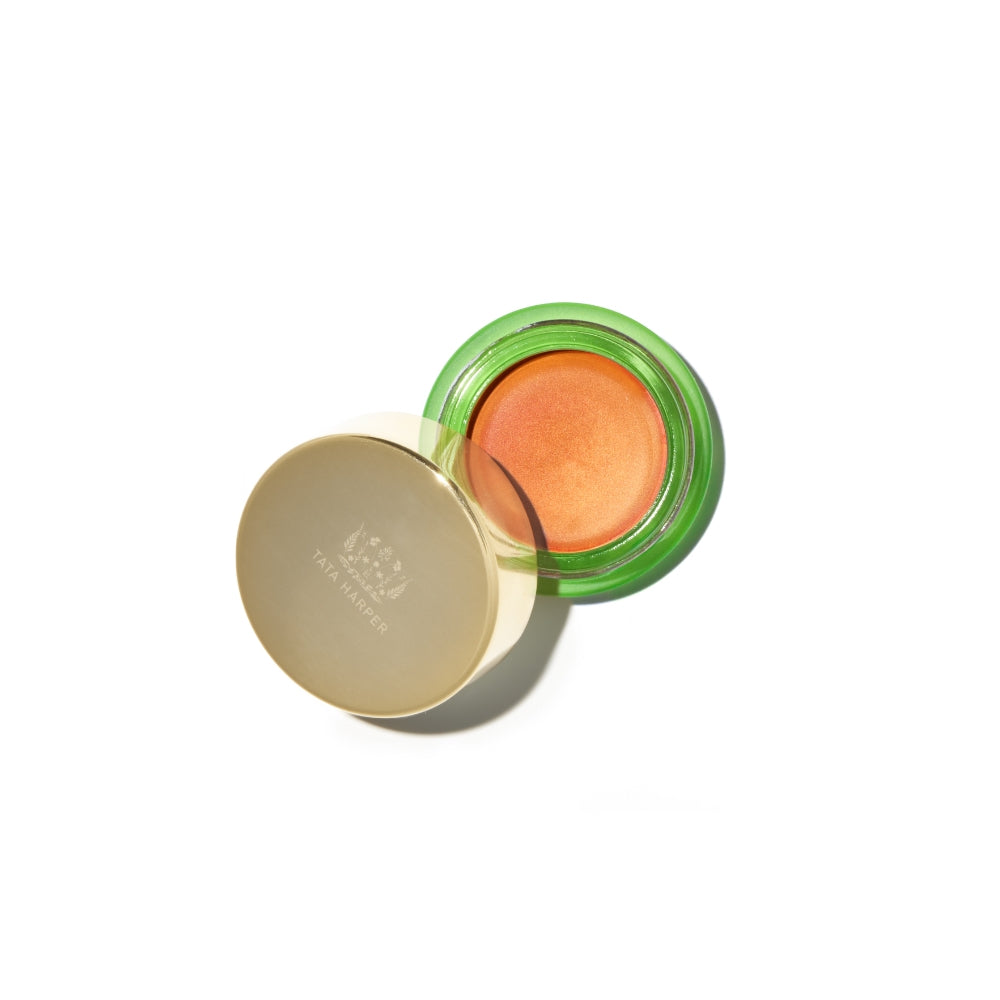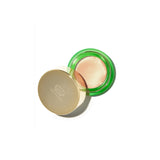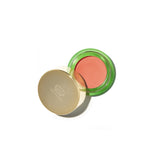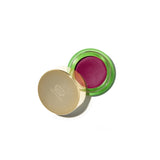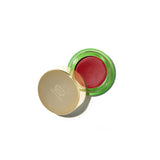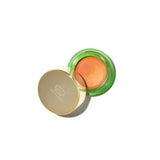 Vitamin-Infused Cream Blush
Description

Vitamin Infused Cream Blush from Tata Harper is a weightless, sheer blush that melts onto the skin in a beautiful flush of colour while helping to defend the skin against environmental aggressors. Formulated with 2 sources of plumping hydration and 12 sources of antioxidants, vitamins, and other goodness for the skin.

... so is it skincare or is it make-up ? It's both ! Why settle for less ?!

Tip from Thalia, our make-up artist: Apply these blushes with fingers, as they have a truly unique texture: soft but with the lasting of a powder!

Shades of Vitamin-Infused Cream Blush from Tata Harper:

Naughty - Ruby red with a satin finish

Flirty - Deep berry

Spicy - Natural pop of terracotta pink with a satin finish

Lovely - Dusty pink with a satin, shimmering finish

Lucky - Bronzy orange with a satin, shimmering finish

Peachy - Golden peach with a satin, shimmering finish

Flashy - soft golden glow in a flattering, radiant finish

Size: 4,5 g


INCI:

Flashy :

Heptyl Undecylenate, C10-18 Triglycerides, Isopropyl Shea Butterate, Mica, Silica, Ricinus Communis (Castor) Seed Oil, Titanium Dioxide (CI 77891), Helianthus Annuus (Sunflower) Seed Wax, Camellia Oleifera Seed Oil*, Camellia Sinensis (Green Tea) Seed Oil*, Caryodendron Orinocense Seed Oil, Rosa Rubiginosa Seed Oil*, Simmondsia Chinensis (Jojoba) Seed Oil*, Polyhydroxystearic Acid, Prunus Domestica Seed Oil*, Plukenetia Volubilis Seed Oil*, Helianthus Annuus Seed Cera, Arnica Montana (Arnica) Extract*, Borago Officinalis (Borage) Leaf Extract*, Calendula Officinalis (Calendula) Flower Extract*, Medicago Sativa (Alfalfa) Extract*, Spiraea Ulmaria (Meadowsweet) Extract*, Sambucus Nigra Fruit Extract, Olea Europaea Oil Unsaponifiables, Tocopherol, Olea Europaea (Olive) Oil*, Rhus Verniciflua Peel Cera/Rhus Succedanea Fruit Cera, Shorea Robusta Resin, Carmine (CI 75470), Iron Oxide (CI 77491)

*Ingredients from organic farming

Peachy :

C10-18 Triglycerides, Heptyl Undecylenate, Isopropyl Shea Butterate, Mica, Silica, Ricinus Communis (Castor) Seed Oil, Titanium Dioxide (CI 77891), Helianthus Annuus (Sunflower) Seed Wax, Iron Oxides (CI 77491), Camellia Oleifera Seed Oil*, Camellia Sinensis (Green Tea) Seed Oil*, Caryodendron Orinocense Seed Oil, Rosa Rubiginosa Seed Oil*, Simmondsia Chinensis (Jojoba) Seed Oil*, Simmondsia Chinensis (Jojoba) Seed Oil, Polyhydroxystearic Acid, Prunus Domestica Seed Oil*, Plukenetia Volubilis Seed Oil*, Helianthus Annuus Seed Cera, Arnica Montana (Arnica) Extract*, Borago Officinalis (Borage) Leaf Extract*, Calendula Officinalis (Calendula) Flower Extract*, Medicago Sativa (Alfalfa) Extract*, Spiraea Ulmaria (Meadowsweet) Extract*, Sambucus Nigra Fruit Extract, Olea Europaea Oil Unsaponifiables, Tocopherol, Rhus Verniciflua Peel Cera/Rhus Succedanea Fruit Cera, Shorea Robusta Resin, Jojoba Esters, Olea Europaea (Olive) Oil*, Polyglyceryl-6 Polyricinoleate

*Ingredients from organic farming

Lucky :

Mica, C10-18 Triglycerides, Isopropyl Shea Butterate, Heptyl Undecylenate, Titanium Dioxide (CI 77891), Polyhydroxystearic Acid, Ricinus Communis (Castor) Seed Oil, Crambe Abyssinica Seed Oil Phytosterol Esters, Iron Oxide (CI 77491), Helianthus Annuus (Sunflower) Seed Wax, Caprylic/Capric Triglyceride, Simmondsia Chinensis (Jojoba) Seed Oil, Iron Oxides (CI 77492), Camellia Oleifera Seed Oil*, Camellia Sinensis (Green Tea) Seed Oil*, Caryodendron Orinocense Seed Oil, Rosa Rubiginosa Seed Oil*, Simmondsia Chinensis (Jojoba) Seed Oil*, Prunus Domestica Seed Oil*, Plukenetia Volubilis Seed Oil*, Carmine (CI 75470), Helianthus Annuus Seed Cera, Arnica Montana (Arnica) Extract*, Borago Officinalis (Borage) Leaf Extract*, Calendula Officinalis (Calendula) Flower Extract*, Medicago Sativa (Alfalfa) Extract*, Spiraea Ulmaria (Meadowsweet) Extract*, Sambucus Nigra Fruit Extract, Olea Europaea Oil Unsaponifiables, Tocopherol, Polyglyceryl-6 Polyricinoleate, Rhus Verniciflua Peel Cera/Rhus Succedanea Fruit Cera, Shorea Robusta Resin, Olea Europaea (Olive) Oil*, Jojoba Esters, Silica

*Ingredients from organic farming

Lovely :

C10-18 Triglycerides, Isopropyl Shea Butterate, Heptyl Undecylenate, Silica, Mica, Ricinus Communis (Castor) Seed Oil, Titanium Dioxide (CI 77891), Helianthus Annuus (Sunflower) Seed Wax, Camellia Oleifera Seed Oil*, Camellia Sinensis (Green Tea) Seed Oil*, Caryodendron Orinocense Seed Oil, Rosa Rubiginosa Seed Oil*, Simmondsia Chinensis (Jojoba) Seed Oil*, Simmondsia Chinensis (Jojoba) Seed Oil, Polyhydroxystearic Acid, Prunus Domestica Seed Oil*, Plukenetia Volubilis Seed Oil*, Helianthus Annuus Seed Cera, Iron Oxides (CI 77491), Arnica Montana (Arnica) Extract*, Borago Officinalis (Borage) Leaf Extract*, Calendula Officinalis (Calendula) Flower Extract*, Medicago Sativa (Alfalfa) Extract*, Spiraea Ulmaria (Meadowsweet) Extract*, Sambucus Nigra Fruit Extract, Olea Europaea Oil Unsaponifiables, Tocopherol, Caprylic/Capric Triglyceride, Carmine (CI 75470), Iron Oxides (CI 77499), Rhus Verniciflua Peel Cera/Rhus Succedanea Fruit Cera, Shorea Robusta Resin, Jojoba Esters, Olea Europaea (Olive) Oil*, Polyglyceryl-6 Polyricinoleate

*Ingredients from organic farming

Spicy :

Heptyl Undecylenate, C10-18 Triglycerides, Isopropyl Shea Butterate, Silica, Ricinus Communis (Castor) Seed Oil, Mica, Helianthus Annuus (Sunflower) Seed Wax, Camellia Oleifera Seed Oil*, Camellia Sinensis (Green Tea) Seed Oil*, Caryodendron Orinocense Seed Oil, Rosa Rubiginosa Seed Oil*, Simmondsia Chinensis (Jojoba) Seed Oil*, Titanium Dioxide (CI 77891), Simmondsia Chinensis (Jojoba) Seed Oil, Polyhydroxystearic Acid, Prunus Domestica Seed Oil*, Plukenetia Volubilis Seed Oil*, Helianthus Annuus Seed Cera, Iron Oxides (CI 77491), Arnica Montana (Arnica) Extract*, Borago Officinalis (Borage) Leaf Extract*, Calendula Officinalis (Calendula) Flower Extract*, Medicago Sativa (Alfalfa) Extract*, Spiraea Ulmaria (Meadowsweet) Extract*, Sambucus Nigra Fruit Extract, Olea Europaea Oil Unsaponifiables, Tocopherol, Caprylic/Capric Triglyceride, Carmine (CI 75470), Rhus Verniciflua Peel Cera/Rhus Succedanea Fruit Cera, Shorea Robusta Resin, Iron Oxides (CI 77492), Iron Oxides (CI 77499), Jojoba Esters, Olea Europaea (Olive) Oil*, Polyglyceryl-6 Polyricinoleate

*Ingredients from organic farming

Flirty :

C10-18 Triglycerides, Isopropyl Shea Butterate, Heptyl Undecylenate, Silica, Mica, Ricinus Communis (Castor) Seed Oil, Helianthus Annuus (Sunflower) Seed Wax, Caprylic/Capric Triglyceride, Camellia Oleifera Seed Oil*, Camellia Sinensis (Green Tea) Seed Oil*, Caryodendron Orinocense Seed Oil, Rosa Rubiginosa Seed Oil*, Simmondsia Chinensis (Jojoba) Seed Oil*, Polyhydroxystearic Acid, Carmine (CI 75470), Prunus Domestica Seed Oil*, Plukenetia Volubilis Seed Oil*, Helianthus Annuus Seed Cera, Arnica Montana (Arnica) Extract*, Borago Officinalis (Borage) Leaf Extract*, Calendula Officinalis (Calendula) Flower Extract*, Medicago Sativa (Alfalfa) Extract*, Spiraea Ulmaria (Meadowsweet) Extract*, Sambucus Nigra Fruit Extract, Olea Europaea Oil Unsaponifiables, Tocopherol, Iron Oxides (CI 77499), Simmondsia Chinensis (Jojoba) Seed Oil, Polyglyceryl-6 Polyricinoleate, Rhus Verniciflua Peel Cera/Rhus Succedanea Fruit Cera, Shorea Robusta Resin, Olea Europaea (Olive) Oil*, Jojoba Esters

*Ingredients from organic farming

Naughty :

C10-18 Triglycerides, Heptyl Undecylenate, Isopropyl Shea Butterate, Silica, Mica, Ricinus Communis (Castor) Seed Oil, Helianthus Annuus (Sunflower) Seed Wax, Caprylic/Capric Triglyceride, Camellia Oleifera Seed Oil*, Camellia Sinensis (Green Tea) Seed Oil*, Caryodendron Orinocense Seed Oil, Rosa Rubiginosa Seed Oil*, Simmondsia Chinensis (Jojoba) Seed Oil*, Polyhydroxystearic Acid, Carmine (CI 75470), Prunus Domestica Seed Oil*, Plukenetia Volubilis Seed Oil*, Helianthus Annuus Seed Cera, Arnica Montana (Arnica) Extract*, Borago Officinalis (Borage) Leaf Extract*, Calendula Officinalis (Calendula) Flower Extract*, Medicago Sativa (Alfalfa) Extract*, Spiraea Ulmaria (Meadowsweet) Extract*, Sambucus Nigra Fruit Extract, Olea Europaea Oil Unsaponifiables, Tocopherol, Polyglyceryl-6 Polyricinoleate, Iron Oxides (CI 77491), Simmondsia Chinensis (Jojoba) Seed Oil, Rhus Verniciflua Peel Cera/Rhus Succedanea Fruit Cera, Shorea Robusta Resin, Olea Europaea (Olive) Oil*, Jojoba Esters

*Ingredients from organic farming
SKIN TYPE

All skin types will love these blushes and all shades look stunning on all carnations !
HOW TO USE

Apply a small amount to lips, cheeks, and lids with fingers, a brush or a sponge. You can add more to achieve the desired effect.
INGREDIENTS
PREGNANT ?

Suitable during pregnancy and breastfeeding.
This product is not vegan. All of our products are cruelty-free.
Vitamin-Infused Cream Blush
DELIVERY
Free delivery from 60 € (LU, FR, DE, BE) and 99 € (rest of the EU)
CLICK & COLLECT
Pick-up your order in 2h in our Luxembourg boutique
SAMPLES
Minimum 3 personalised samples in each order